The second life of the 'Hercules'
Floating industrial heritage of seagoing shipping and Dutch ship building
Mid January 1979 mr. G.C. Boekweit bought the steamtug 'Hercules' and a new era was reached for the vessel. She was registered under official number '7791 z amst 1979' and renamed as 'Hercules'. After almost 5 years repair and restoration by Kees and his volunteers, final approval was given by the Dutch steam authority on Augustust 4th 1983. A successful trial followed shortly after.
On January 21st 1985 the foundation Stichting Calorische Werktuigen was founded and the steamtug 'Hercules' was given in management to this foundation.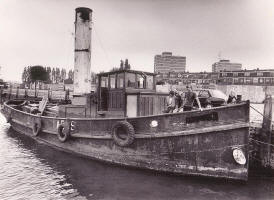 The 'Hercules' berthed alongside in her homeport Schiedam, the big challenge for Kees and his volunteers begins. (Click on the photo for an enlargement)
It seems very simple, you buy an old tug, restore it and go ahead proceeding. However, as from 1979 until now many jobs have been done and it's never ready. Below a brief summary of the jobs been carried out.
The condensor in the engineroom was renewed and in addition a new feedingwater-preheater was placed
The old anchorchain hawse pipes were renewed
The de-magnetising cables were removed
A new funnel was placed including new smoke casing in front of the boiler
All fire and support tubes in the boiler were renewed
In 1997 a connecting rod bearing was heavily damaged. As a consequence the complete crank shaft had to be disassembled for revision
For coolingwater a new outboard valve was placed
The complete rubbing strake was renewed
The crew's quarter in the aftship was refurnished and provided with new wall and ceiling panneling
During drydocking in 1999 some doubling platings were welded at the underwater hull. This was done due to bad condition of rivets and as a temporary solution...
New mast
New wheelhouse topdeck including wooden floor
Refabrication of 18½ engine bearings-and more vital main engine parts...
new wooden screens above the quadrant on the stern
In 2009 the bow's wavebreaker is riveted back, by the volunteers themselfs. As originally built.
..........etc, etc...............
The future
Of course in the future many jobs will be carried out to make sure this special steam tug remains operational:

Reconstruct small anchor davit
Reconstruct 2 davits with lifeboat on superstructure
Replace a steam generator and the steam firefighting pump in the engineroom
Repanneling and refurnishing the crew's quarter in foreship
Reconditioning of steeringgear engine
Renew lower mast with gaff
...........etc, etc..................