Hercules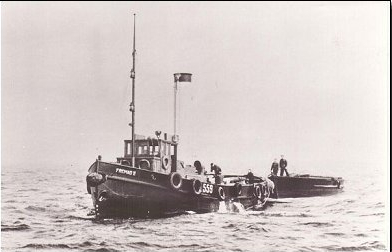 The 'Hercules' is the oldest of the two steam crafts the foundation Stichting Calorische Werktuigen owns. She was built in 1915 at the yard of "Gebroeders G & H Bodewes te Martenshoek" (city of Hoogezand, Groningen). End of 1915 the steamtug was sold to the Danish Admiralty, where she served between the Danish Isles as a harbour and coastal going tugboat with the names 'Fremad' at first and 'Fremad 2' later untill 1964 (registration number A559). After her navy service she was sold to a private person, who didn't use the vessel for 15 years. During the latter period she was quite lacking maintenance and stripped. In 1978 a ship broker brought her back to The Netherlands. The present owner came into possession of the old steamtugboat in 1979. The tug was in very bad shape that time.
He still had faith in the future of the vessel and he commenced a restoration what should last five years at the end. After this seeming impossible challenge, the Hercules now is an operational example of our steam propulsed nautical history. The vessel was called after the first steam tugboat, the 'Hercules' , which came into service in 1829. The special thing of this ship, dated from the pioneers period (under construction) of steamshipping, was that it served the purpose of coastal towing and a compound engine was used successfully. The present 'Hercules' now is, almost 200 years later, the last operational Dutch built coastal going steam tugboat.
Read more about the early years of the 'Hercules' or about the events since 1979.
---
Aboard

Try the environment of living and working aboard this steamtug and click on the photos for the unmistakable sound of the Hercules. Or make a 3D-tour, care off homevisit.
---
Technical data
Length
21,70 m
Breadth
5,65 m
Draught
2,65 m
Gross registerton
63,51 ton
Engine
compound machine of Machinefabriek A.S. Fulton
in Martenshoek
Revolutions
140 revs/min
Output
225 ipk (indicator horse power)
38 npk (nominal horse power)
Manufacturer
Machinefabriek A.S. Fulton
Boiler
Double fired scottish boiler
Service pressure
11 atmosphere
Heated surfac
79,84m2